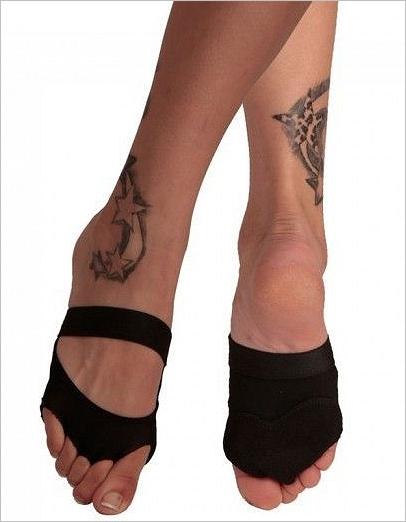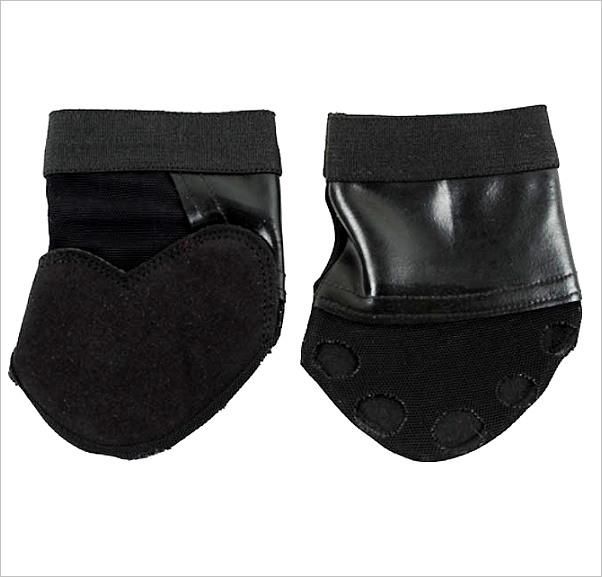 Save your Sole with the new Trixie Toe Sole Savers from Mighty Grip. Each set of Sole Savers is designed to prevent friction burns and skin tears, and to keep your barefoot look and feel great! They are also used to relief of painful symptoms like metatarsal neuralgia, metatarsalgia, metatarsal neuroma, morton's neuroma and soreness in the ball of the foot.

Sizing

Finding the perfect fit requires factoring in the width and thickness of the foot, the instep, and the dancer's personal preference of fit. On first fit, Trixie Toes should feel tight. They will stretch to their final fit in four to six hours of wear. The charts below will give a snug fit after stretching. Stand with your full weight on a piece of paper and draw lines at the widest part of your foot, as shown here. Find your size in the first table below. Consider the thickness of your foot. If you have thick feet and are close to the next size, order one size larger. Young children may be more comfortable in one size larger.
| | |
| --- | --- |
| | Millimeter |
| SMALL | 82-90 mm |
| Medium | 90-98 mm |
| Large | 98-106 mm |
Wear & Care
Gently place the tip of each toe through its hole, grasp the lycra and elastic and pull over the toes. Continue, releasing the fabric bit by bit as you pull them on all the way. The gentler you are to them when you put them on and take them off, the longer they will last.
Customizing your Sole Savers
If the fabric is tight around any toe, cutting off circulation or causing discomfort, they should be trimmed to fit. With Dance Paws on your foot, draw a crescent shape to mark the fabric where it starts to extend onto the toe. Do not draw between the toe holes. Take them off and use small sharp scissors to enlarge each hole up to the mark you made. A small cut makes a big difference, so trim carefully!


Add Review
Current Reviews: 0



Customers who bought this product also purchased